IH VA Injection pump information
These pumps are subject to availability please call if needed.
VA CR type IH injector pump ---- * CONDITIONS BELOW
The VA/CR pumps are subject to availability
All VA pumps have been completely disassembled and inspected, parts showing wear and are out of mfg spec's are replaced, new seals installed then tested and set to meet manufactures specifications. Units are warrantied for 12 months excluding seized H&R Assemblies, Seized Head and Rotors are created by dirt or improper installation.
VA3 100H CR Style Fits 454, 464, 484 with D-179 engines
VA4 100H CR Style Fits 544, 574, 585, 664, 674, 684 with 206 and 239 Engines
VA4110H CR Fits 784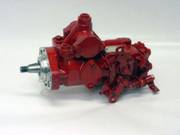 *VA CR IH Pump Core condition and terms, Cores must be secured with a credit card. You will have 10 business days (M-F) to return ship your core to us after you have received our replacement pump. If your core has not shipped back to us within this time frame your card will be charged $300. Cores that are burnt, have broken housings, missing levers, or missing internal parts may not qualify for the full core allowance. Core that are seized or locked are not acceptable. We reserve the right to allow partial credit or no credit for cores in a non-rebuild-able condition.
Below there are listing to convert most of the VA/CR style Injector Pumps to a CAV DPA Style, As stated there will be modifications required,
1) The inlet and outlet lines are in opposite places from the VA pump. The CAV DPA pump has the fuel return line nearest to the mount, the supply line is nearer to the injector lines
2) The throttle and the shut off are on top of the CAV DPA and down on the side of the VA
3) There is no "Cold Start" position on the shut off
These pumps are Brand NEW no core required. They are on a order as needed basis now and will take 8-10 weeks for us to receive. Please call for current pricing.
Injection Pump IH 3 Cylinder
CAV Style to Replace Bosch Pumps
For D-155, D179 Engines
Fuel Line and Linkage Modification Required
Fits 454, 464, 474, 484, 385, 485, 3220, 2400, 2400A
Replaces 3136072R93, 3136073R93, 3144270R91,
3144402R91, 73108C91, 1329100C91,
VA3/100H1100CR9/3, VA3/100H1150BR61,
VA3/100H1150BR62, VA3/100H1150CR61,
VA3/100H1150CR62,


Injection Pump IH 4 Cylinder
CAV Style to Replace Bosch Pumps
For D-206, D-239, D-248 Engines
Fuel Line and Linkage Modification Required
Fits 574, 674, 584, 684, 784, 585, 685, 785, 595, 695
544, 4210, 4230, 4240, 2544, 3514, 250A, 2500A,
2500B, 3500A, 3500B
Replaces, VA4/100H1100BR12-1, VA4/100H1100BR12-2,
VA4/100H1150CR69-4, VA4/10H1150CR69-4, VA4/10H1150CR8,
VA4/10H1200CR12-12,
VA4/110H1200CR85-1,
Injection Pump IH 6 Cylinder
CAV Style to Replace Bosch Pumps
For D-310 Engines
Fuel Line and Linkage Modification Required
Fits 686, 706, 756
Replaces 3055975R98, 3132606R92, 3144328R91,
3144430R91, 3144531R91, 3210337R91, 735129C91,
735130C91, 735132C91,
VA6/100H1150BR21, VA6/100H1200BR44-1,
VA6/100H1200CR191, VA6/100H1200CR44-1,,
VA6/100H1350BR49, VA6/100H1350BR49-1,
VA6/100H1350CR49-1, VA6/100HCR21-5,