To remove a Simms Pump from Ford applications:
The 3, 4 and 6 cylinder Ford Tractors that have the Simms or Minemec injection pumps, will all be similar to remove the only differences will be the degree markings on the static timing. These marking will vary some between each of the models of the engines, but if you time the pump the degree mark will fall where it has been set, if you are experiencing issues in running you may want to confirm the degrees your particular engine times at.
To remove the pump you will first need to remove the cover on the front of the engine directly in front of the injection pump, this cover will have 5 bolts in it. Some models it will be necessary to drain the water and remove the lower radiator hose.
When you remove the cover you will see the gear as pictured below, DO NOT REMOVE OR LOOSEN THE 3 SMALL BOLTS yet. To ensure the correct timing, it is best to time before you remove the pump.
Look into the 3 large openings in the gear located between the 3 small bolts that hold the gear to the pump drive.
In one of the openings you will see a strike mark as pictured on the left, the pump hub in the picture also has a hole there, some may and some may not. If your hub is equipped with the hole, the strike mark will be on the edge of the hole, if not it will be about mid way of the opening.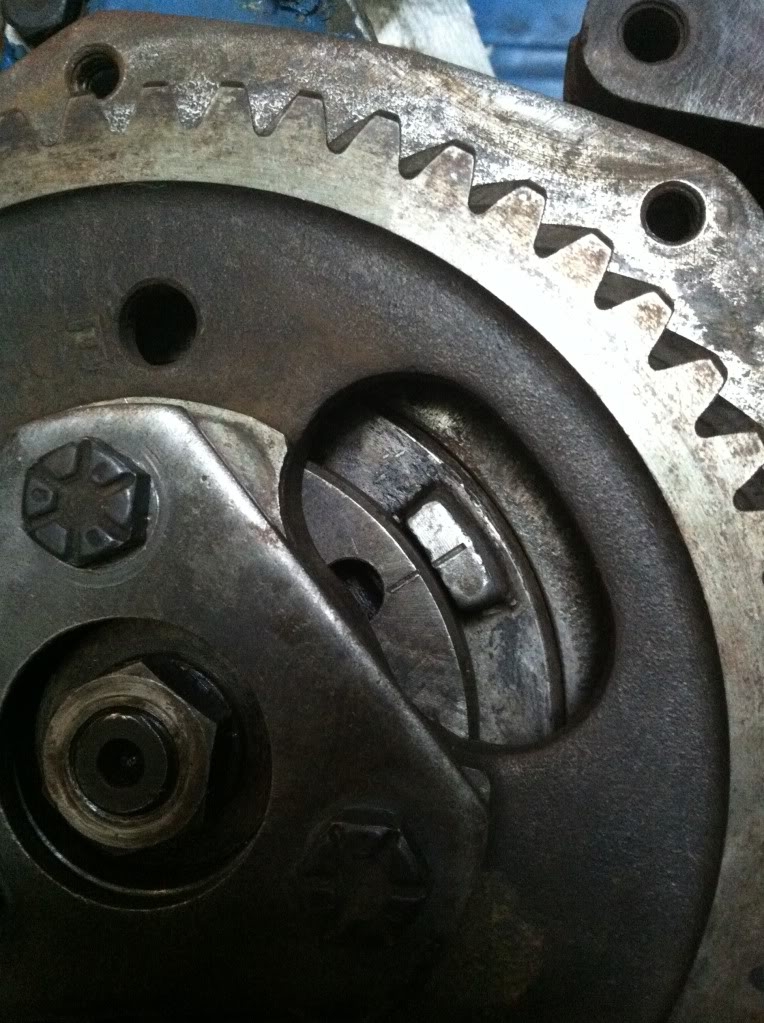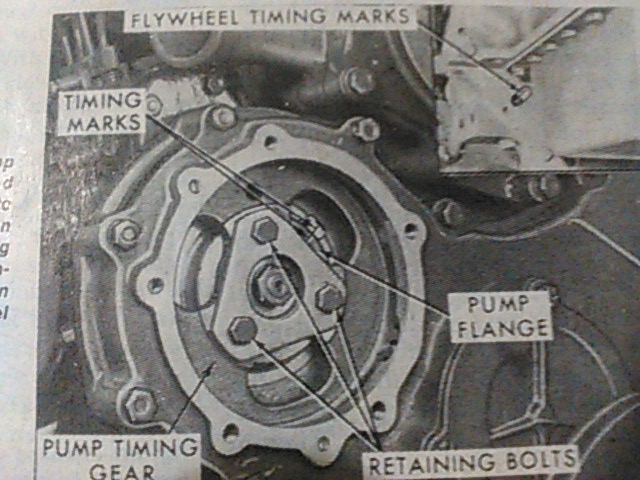 Rotate that strike mark to about the 1 o'clock position through the opening in the 1 o'clock position you will see a tang protruding from the pump housing, the mark on the pump hub needs to line up to the mark on the tang on the pump housing. Viewing from the front make sure the drive gear on the pump is turning clock wise, this will be the rotation of the engine while running, turning the engine the way it rotates will keep the free play and back lash out of the gear train and ensure correct timing.
In the top right hand corner of the first picture you can see the oval window at the fly wheel; this will be on the brake pedal side, through this hole you will see degree marks, observe where the fly wheel is located to tell how many degrees BTDC it is set at.
Remember if you are timing by the fly wheel marks, the fly wheel turns 2 times to the pump drive gears 1, if you are not on compression stroke the pump mark will be 180 degrees from where you need it
It is much easier to locate the pump marks and work from there, it is only required to get the pump back where it was.